I am pleased to announce that Magge Nigro '17 is this year's awardee of the South Beach Writing Residency, offered by the family of Hyam Plutzik '32.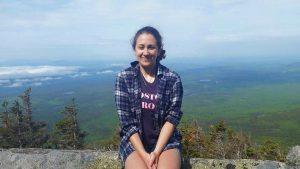 Magge is originally from Reading, MA. She entered Trinity College in the Fall of 2013, and became an English major with a concentration in creative writing (poetry) during her sophomore year. She has studied under professors Ciaran Berry, Ethan Rutherford, Daniel Mrozowski, Clare Rossini, Chloe Wheatley, Christopher Hager, and Milla Riggio. During her senior fall semester she was selected as one of the Connecticut Poetry Circuit Student Poets, and toured colleges in Connecticut with four other poets during her senior spring semester—reading her work at Trinity, Connecticut College, the University of Hartford, the University of Connecticut (Storrs and Waterbury), Central Connecticut State University, Manchester Community College, and Yale University.
The Family of Hyam Plutzik (Trinity '32) offers an annual residency (for five years, beginning in Spring 2014) in South Beach in the Betsy Writers Room to a graduating senior with outstanding talent in the literary arts.  The award is given in May, as part of the graduation program (Honors Day).  This residency comes with a $500 travel stipend, six days lodging, and a per diem of $50. During the residency, which can happen anytime during the award year (June-April), the recipient will be invited to participate in an Arts Salon to share his/her work with the community; planning will be done in close partnership with the visiting artist.  The residency will be awarded annually by the Head Curator and Librarian of the Watkinson, in consultation with College advisers, for a residency to be scheduled directly with the Betsy Writers Room.
This entry was posted on Monday, May 1st, 2017 at 12:06 pm and is filed under
Prizes and Awards
,
students
. You can follow any responses to this entry through the
RSS 2.0
feed. Both comments and pings are currently closed.