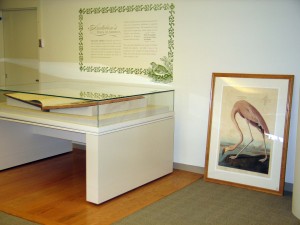 One of the first things I learned upon starting at the Watkinson was that our copy of the Birds of America, which was given to Trinity by one of its early graduates in 1900 (Dr. Gurdon Russell, Class of 1834), was incomplete.  Unfortunately, well before the current security measures were put in place, a professional thief had stolen two plates from the book in 1977.  One plate (no. 430, the Slender-billed Guillemot) was recovered from a Boston bookseller within a year of the theft—the man also stole from the Connecticut State Library, the Boston Public Library, the Peabody Institute, and the New Bedford Public Library in Massachusetts.  The other plate (431, the American Flamingo), was never recovered.  Fortunately, we were able to secure a copy of this plate (from another set, owned by a paper company in Alabama) at auction on September 28, so after 35 years, our set is complete again.
The fact remains, however, that somewhere out there, on someone's wall (hopefully unbeknownst to them), is our copy of the Flamingo.  Maybe someday we'll find our wayward bird, but in the meantime, we will cherish our adopted one.
Tags: Exhibitions, natural history, New Acquisition, ornithology
This entry was posted on Thursday, October 6th, 2011 at 4:26 pm and is filed under
Uncategorized
. You can follow any responses to this entry through the
RSS 2.0
feed. Both comments and pings are currently closed.