Actually, it's the Yellow-billed Cuckoo–but in any case, the Audubon is now "in situ" and open to Volume I Plate II — ready for viewing!  We will turn the page each Monday (or Tuesday, if Monday is a holiday) for the next 8.5 years and enjoy 433 new birds (Plate I, the turkey, was on display all summer, and so has done its duty; in fact, given the approach of Thanksgiving, we think it wants to keep a low profile).
This plate (along with the other first five) was engraved by William Lizars in January 1827.
The choice of the first five plates was intentional, and the sequence was planned by Audubon during his tour of the Great Lakes in 1824.  They included images of one large (turkey), one medium (Canada warbler) and three smaller species (yellow-billed cuckoos, purple finches, and prothonotary warblers).
Fifty copies were "struck off" for coloring, and Audubon was able to present the first set of five plates to the Royal Society of Edinburgh on February 5, 1827, with the venerable Sir Walter Scott in attendance.  Audubon was scrambling to gather subscriptions to pay for the work.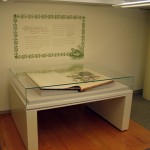 This exhibition is now open, but a more formal opening will be held on Thursday November 3rd.  Prof. Christoph Irmscher from Indiana University (his faculty profile is here) will deliver a lecture entitled "How To Read Audubon."  Dr. Irmscher edited the Library of America edition of Audubon's works, and writes on nineteenth-century American and Canadian literature, early American nature writing, and ecocriticism.From 4:00 – 5:00pm we will have all four volumes on display in the Reading Room, with Dr. Irmscher and myself on hand to answer questions.  At 5:00pm professor Irmscher will deliver his talk in the Joslin Family 1823 Room, and we will hold a reception.
Tags: Exhibitions, ornithology