We just acquired approximately 63 (including several duplicates) glossy 8 x 10″ professional photographs of turkeys from Max M. Lyons' turkey operation.  Lyons was famous for developing the 100% Broad Breasted Bronze, arguably the most popular turkey in American at that time (1930s).  He started in the turkey business with his father-in-law in 1912, and over the years developed several new hybrids; he was a constant exhibitor at state fairs and poultry congresses, winning many awards.
Shown here is a noble profile of the bird that Benjamin Franklin apparently favored for use as our national bird (some theorize that he was being facetious).  In any case–it's a face for radio, as they say.
Why, you may ask, has the Watkinson acquired this archive?  One of the lesser known subsets of our famous ornithology collection deals with the breeding and raising of poultry, and so here we are.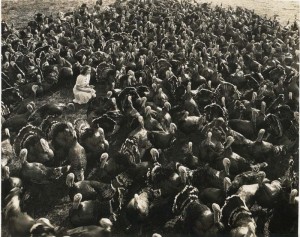 My favorite image in the archive is of a young lady in a rather graceful crouch among a teeming field of turkeys, all destined, no doubt, for the dinner table . . .
Tags: New Acquisition